Lunch Take-Out
Lunch Take-Out Menu
Thurs 2/2,  Fri 2/3
Samosa Shack is now pleased to offer lunch pick-up at our Kingston kitchen!
Lunch pick up is available from Noon – 2:00 pm, Thursday and Friday
Orders can be picked up at at 129 Cornell St, Kingston, NY.
(Entrance on Bryun Avenue across from the yellow building)
Text your order to (914) 907-4345
Please allow 30-35 minutes for preparation.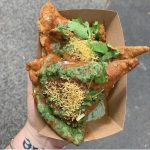 SAMOSA (two chutneys) $4.50 / ea
potato pea cilantro
sweet potato spinach
tofu tikka masala
---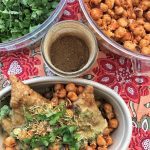 SAMOSA CHAAT $14
Two samosas (you pick), tandoori roasted chickpeas, tamarind & cilantro chutneys, cilantro, sev.
---
ALOO TIKKI CHAAT $14
Two spiced potato cakes tandoori roasted chickpeas tamarind and cilantro chutney dairy free raita cilantro sev (gf).
---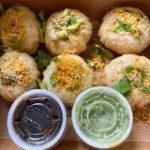 CHAAT BOMBS $13
Crispy mini-puris stuffed with a spiced potato chickpea lentil mix, chutneys, sev.
---
WARM SWEET POTATO CHAAT $12

Local sweet potato scallion, crispy flattened chickpeas (gf).
---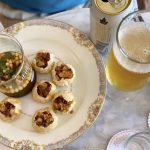 Crispy mini puris, spiced potato chickpea filling, tamarind chutney, mint water.
---
---